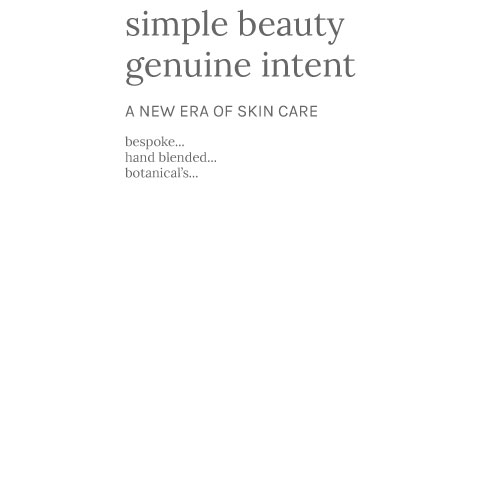 BARRIER BUILDING INGREDIENTS
Moisturisers are necessary to hydrate the skin and to maintain the skin's barrier function. The usual everyday moisturiser is usually an emulsion, a mix of water, oil and humectant, held together by an emulsifier, heated to 75 degrees and mixed + preservatives when applied to the skin the water evaporates leaving a thin layer of oily ingredients to create a protective and moisturising barrier.
We prefer to use a cold process method when creating our moisturisers, keeping all the heat sensitive, unrefined raw botanical ingredients protected.
Our Barrier Building moisturiser, specifically formulated for skin barrier protection uses skin identical phospholipids creating a phospholipid bilayer to protect the skin from epidermal water loss.  (Available soon)
Our oil blends and Face oil elixirs are truly potent concentrations of plant goodness that contain barrier building essential fatty acids that can also be used as a moisturiser, 
a little dab of Smooth Cleanser and a squirt of oil Elixir and a splash of water, you have your own individual blend to suit your need; you'll be amazed at the results
RITUALS AND ROUTINES
We love to add rituals to our skin care routine.  RITUALS, add inspiration and sets an intention to feel a certain way.  Rituals create a space for connecting with ourselves and replenishing our internal energy a 'me time' experience to be integrated into our daily life, like cleansing our face and moisturising our skin in a mindful manner.
A VERSATILE SKIN CARE RANGE
Rituals can be tailored to your specific skin type and concerns. We know that skin changes daily with environment and lifestyle, so we designed our range to be versatile, the outcome: A flexible range of botanical products that can be mixed together at the time of use to create bespoke treatments for your skin's individual needs, to create the best results for your skin.

HAND BLENDED AND BOTTLED IN SMALL BATCHES
Made in small quantities, so you receive ingredients full of vibrant life created with energy from passionate individuals while installing positive vibes and loving intentions into every bottle. A handcrafted energy that won't be found in many conventional, mass produced brands, where most have to be formulated to last numerous months or years, usually warehoused and stored to be able to reach shop shelves in good condition.
A HOLISTIC SKIN CARE APPROACH  
What you put on your skin is important but so is your overall health and well-being. Lifestyle choices, emotional health and nutrition affect our innate beauty. Tackle your skin issues by focusing on your overall health. Learn why this approach makes more sense than just focusing on your skin care issues; take a look at the whole picture, to achieve your best skin.
HIGHLY EFFECTIVE, INGREDIENT CONSCIOUS SKIN CARE
We care about what you put on your biggest organ, your skin. We pick our ingredients very carefully to make sure it's the best quality available and that it works to support your skin, creating highly effective results.  We formulate our products based on your skin type and concerns. Choosing certified organic where available. We keep our formulations simple but effective while utilising high volumes of actives, steering away from fillers and unnecessary additives choosing food based ingredients where appropriate. While being open and transparent in what we use in our blends. 
BOTANICAL OILS FOR CLEANSING
Cleansers are designed to remove dirt, make-up, sebum and pollutants, mainstream facial washes are usually emulsions (mix water and oil) or gels with surfactant's (foaming). At Miskin we use botanical oils to remove makeup and dirt, when massaged into the skin, oils binds to surface impurities drawing out dirt without clogging pores, keeping skin balanced and barrier intact; Leaving the skin clean, soft and hydrated. Don't be afraid. Give it a go.