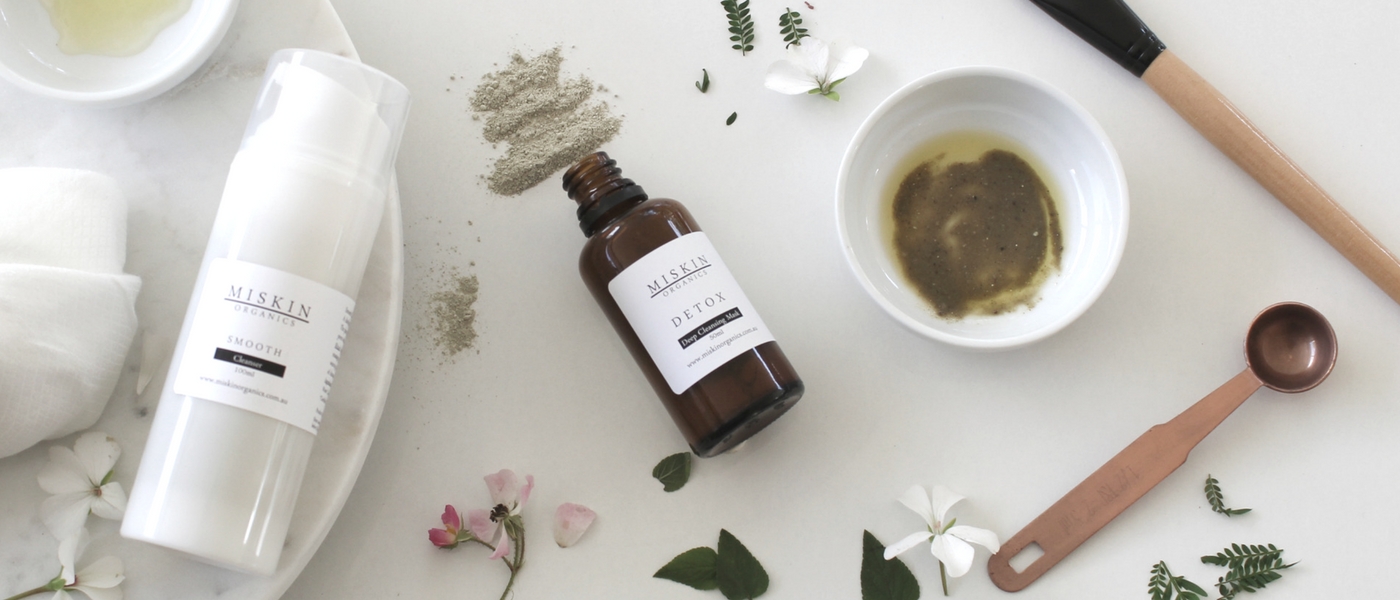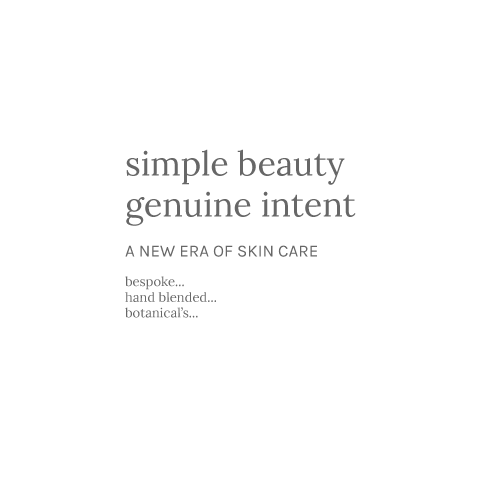 MISKIN AUSTRALIAN ORGANIC SKIN CARE BELIEVES SKIN HEALTH STARTS WITH A CONSCIOUS CHOICE
Australia organic skin care. Inspiring you to make positive choices. Miskin (My skin, my choice, my health).
The key to healthy vibrant skin is correctly assessing and caring for your skin, for example, your skin changes with internal and external triggers which are the cause of many skin conditions.
A product that might work well for a friend may not work for your skin.
Knowing your skin is taking charge of your skin's health. Listen to your skin and learn what it needs and what it doesn't need to be balanced and healthy.
Know how to take care according to your skin type and condition. Assess your skin honestly and try not judge what you have. Be kind and gentle to yourself and your skin. Think beautiful thoughts. Read more about skin types

MISKIN AUSTRALIAN ORGANIC SKIN CARE BELIEVES IN BEAUTY AS SELF-WELLNESS TO REVEAL HEALTHY GLOWING SKIN NATURALLY.
Skin is like a fingerprint and unique to you. We all have different skin these is no one size fits all approach.
What you put on your skin is important but so are lifestyle choices, emotional health and nutrition. Beauty from the inside out is not a quick fix; the skin needs time to regenerate and balance.
The WHOLE self-care approach makes more sense than just focusing on your skin care issues. This holistic approach can balance nourish and protect your skin. Prevention is always better than cure.
Miskin, Australian Organic Skin Care, believes beauty shines from within. Exuding confidence and feeling positive about life. Honouring our innate wisdom while taking care of ourselves. Miskin beauty is Pro-Aging. We ditch the negative anti-aging terms and love ourselves for who we are.
 "Accept the inevitability of ageing and learn how to do it well. If you look after your health, you and your skin will age gracefully". Dr Andrew Weil
MISKIN ORGANICS INSPIRES MINDFUL BEAUTY RITUALS TO REPLENISH INSIDE AND OUT.
Miskin, Australian organic skin care believes good rituals lead to successful habits.  Think about how you can create a skin care ritual that may help you prepare for the day.  Or a skin care ritual that may help you unwind in the evening. Take the time to focus on your self-care needs. Feel good about yourself. Be comfortable in your own skin.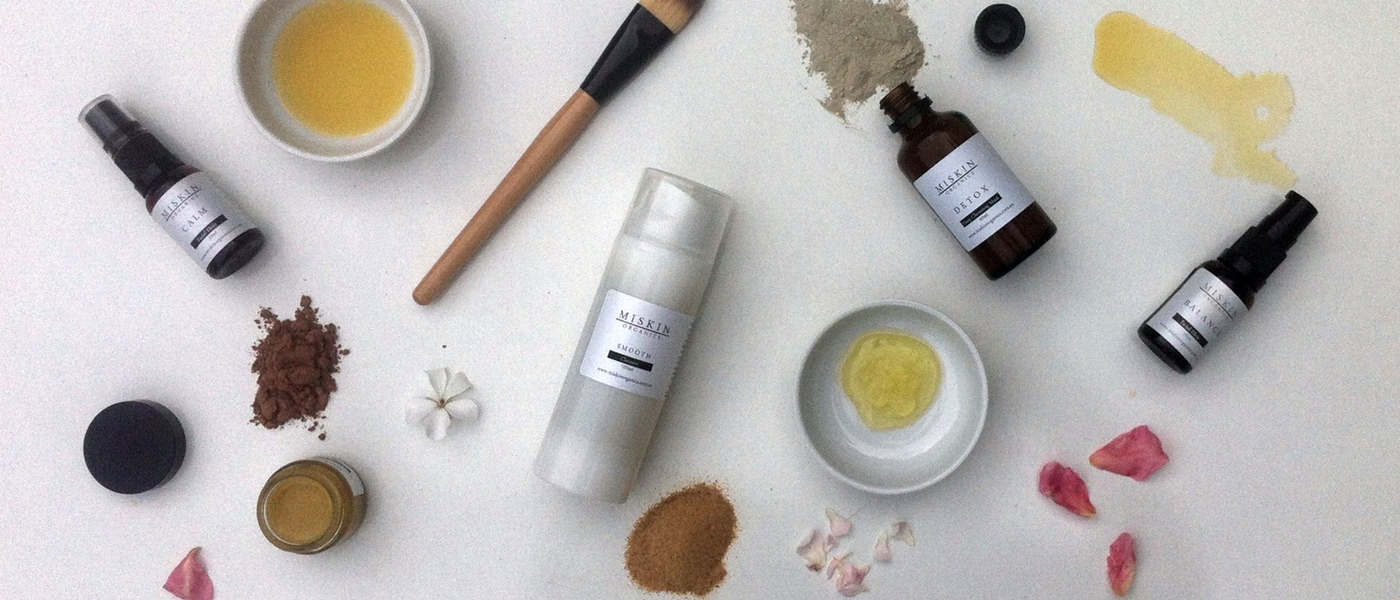 INGREDIENT CONSCIOUS SKIN CARE THAT WORKS WITH YOUR SKIN
We care about what you put on your biggest organ, your skin, for instance, we pick our ingredients carefully to make they are safe and the best quality available, likewise, we choose certified organic and ecological friendly ingredients over conventional where available.
We keep our formulations simple but effective utilising high volumes of actives, steering away from unnecessary fillers and additives, while choosing food based ingredients where appropriate and being open and transparent in what we use in our blends.
We select unrefined raw cold processed oils, therefore retaining the highly therapeutic vibrant, state.
The Innovative formulation processes allow us to cold process many of our formulations.
Using low energy techniques, for instance, helps us to preserve the botanical actives. Essential for optimal skin nutrition.
HAND BLENDED AND BOTTLED IN SMALL BATCHES
Miskin Australia organic skin care creates a range in small batches, firstly, you receive the best quality skin care. Secondly, energy from passionate individuals install positive vibes and loving intentions into every bottle. I conclusion, an energetic vibrancy that's lost in conventional, mass produced brands, where most have been formulated to last many months or years which are warehoused and stored before reaching the shop shelves.
PACKAGING
We choose packing to protect our ingredients from UV, oxygen and microbes. Our packaging is recyclable. We keep packing simple with no unnecessary extras.

BARRIER BUILD AND PROTECT
Miskin, Australian Organic Skin Care formulates their products based on your skin type and concerns. Every ingredient is chosen mindfully for a good reason. To work in harmony and support your skin's natural ecosystem. By building and protecting your skin's natural barrier, preventing trans- epidermal water loss (TEWL). Maintaining the skin's moisture balance, preventing dryness, reducing sensitivity and revitalising damaged skin.
PLANT POWER SYNERGIES TO CALM INFLAMMATION AND PREVENT ACCELERATED AGING
We combine traditional and innovative ingredients rich in anti-inflammatory actives to create calming BIO Synergy fusions of plant power goodness.
Our concentrated antioxidant formulas are designed to work in synergy, for example, they protect the skin from environmental free radical aggressors, which cause inflammation, a primary source of premature skin ageing.
FORMULATIONS ARE BLENDED TO BALANCE AND PREVENT MANY SKIN CONCERNS
• Balance ( nourish build replenish )
• Prevent ( strengthen and protect)
• Restore ( brighten, REFRESH)
PHILOSOPHY 
Miskin Organics is committed to a holistic existence, aware of our ecological and sustainable responsibilities.
Self-love ritual & Healthy Skin
Honest transparent
Eco-Conscious
Positive pampering
Handcrafted
Mindful
Educate & Empower
Striving for the highest quality
Passion & innovation
Vibrant full of life & energy
Growing with your needs
No Animal Testing
Holistic
Celebrate individual beauty

Inspired to help you on your journey. Get your best skin ever, so you can look glowing and feel happy in  YOUR skin.
When I create a Miskin potion I carefully choose plants that have an affinity to your skin. I skilfully craft these elements into amazing skin loving formulations. Made to work in harmony with your skin by balancing protecting and restoring.
Amanda is the founder and formulator of Miskin Organics. Botanical skin care hand blended in Brisbane Australia.
MY STORY
I had lost my glow. My skin looked tired and lifeless, red blotchy and drawn. Stress had caught up with me and started to cause imbalances from within.
I sought advice from a Naturopath, looking for a holistic alternative resonated with me. My naturopath used herbs, vitamins and foods, to help me from the inside. After a couple of months, I started to feel energised. My skin was looking a better, but it needed something extra. 
I had read about rosehip oil and its wonderful skin benefits of so I gave it a go. It felt amazing on my skin I fell in love with it! My skin responded with relief, I was getting my glow back yaa ohh
I knew plants and vitamins were the key to nourishing my skin back to health. I totally engrossed myself, studying plant botanicals that had an affinity with the skin. Experimenting with mixing and blending. It took me a while, but I came away with some formulations that worked wonders.
I had found my connection with elements from the earth that I had been drawn to as an artist. I knew I had to embrace my passion. I was ready to make a positive change, with a lifestyle change, I had been dreaming of .
I absorbed myself in books and courses dedicated to skin science and plants. I befriended like-minded kindred spirits, who specialise in health and wellbeing. I tweaked my original formulas and experimented on other product blends.
And here I am now; my passion has become a reality. I pour my heart and soul into my creations. Inviting you to explore mindful skincare rituals. With a whole heart and mind.
I am learning how to listen to my body. I fell in love with the concept of mindfulness. I am learning how to introduce this technique into my everyday life. To help relieve stress and calm the mind.
I am learning that beauty is self-wellness. It's a conscious choice to learn about your skin health. I have learnt to be kind and gentle to myself and my skin. I can't wait to share this with you.
I want to inspire you to discover your individual beauty, your confidence that can beam from the inside. And skin that can glow from the outside.
I hope you enjoy.
Amanda xxx.
Miskin Organics