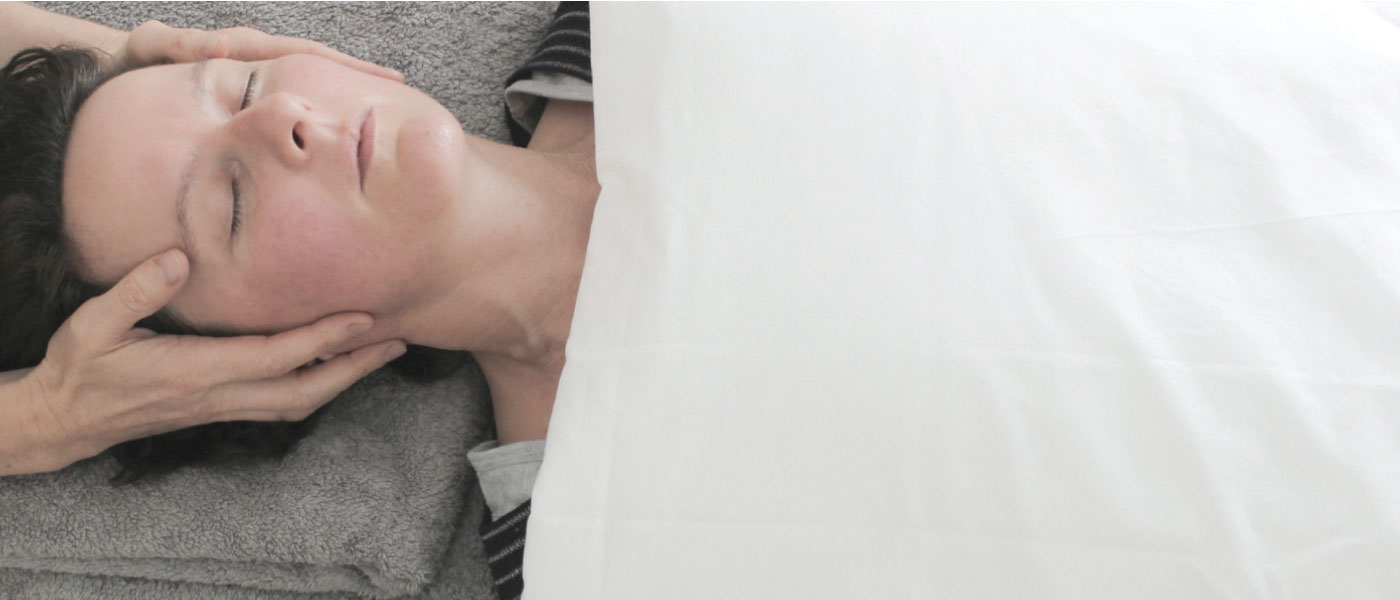 Is facial rejuvenation naturally a non-invasive way to look refreshed and rejuvenated? Could this be the Natural Face Lift Massage?
I came across the Natural Face Lift Massage (Facial Rejuvenation) while conducting some research regarding non-invasive facial techniques; I became fascinated with this non-surgical facelift treatment as I totally believe in a holistic approach to skin ageing.
I was excited to learn this hands on technique so that I could share the positive results with my clients.  I had read about the benefits but wanted to find out for myself if this technique really lived up to its name.
WHAT IS THE NATURAL FACE LIFT MASSAGE (FACIAL REJUVENATION)
This gentle facial rejuvenation system uses the healing energy of touch, performed over the face and neck to help release pent up stress and emotions. The Natural Face Lift Massage (also called Facial Rejuvenation) is a truly 'holistic' treatment based on ancient Ayurvedic techniques combined with a modern contemporary approach to rejuvenating your skin. The 60-minute facial rejuvenation techniques, developed by Kundan and Narendra Mehta, founders of The London Centre of Indian Champissage.
The connection between holding our emotional tension in our facial muscles creates a stressed appearance. I read the many benefits this treatment can provide; total relaxation, reduced stress, soften expression lines, improve skin tone and softness. The entire ritual uses a hands-on approach with gentle and non-invasive movements.
I decided to take the plunge and learn this intriguing facial massage, so I signed up to take the course; I was so excited to get started.
The course date eventually arrived.  Greeted by the lovely Mary Matthews from Naturally Rejuvenate.  Mary showed me around our workspace. She had flown from Perth to Brisbane to teach this wonderful therapy. Mary learnt of the natural "face lift" technique that was gaining worldwide respect.  She flew to London to train as a teacher at the London Centre of Indian Champissage International (LCICI), the innovator and leading centre providing training in Natural Face Lift Massage (Facial Rejuvenation).
I met some lovely ladies on the course, and enjoyed the very intensive hands-on learning; Mary was the best instructor and teacher. It's amazing how much you can learn with guidance and practice. It was hard to gauge the treatment results in the class, but I felt so relaxed when I was being treated it was hard not to fall asleep.
"Natural Facial Rejuvenation (face-lift massage)…The most gentle blissful treatment your face will ever experience!"
The next part of the course composed of five cases studies which I completed over 3 months with a few of my clients. Each client had six weekly treatments, this was my chance to see how this modality could perform and wow I was so surprised with the overall results and so were my clients.
FACIAL MASSAGE BEFORE AND AFTER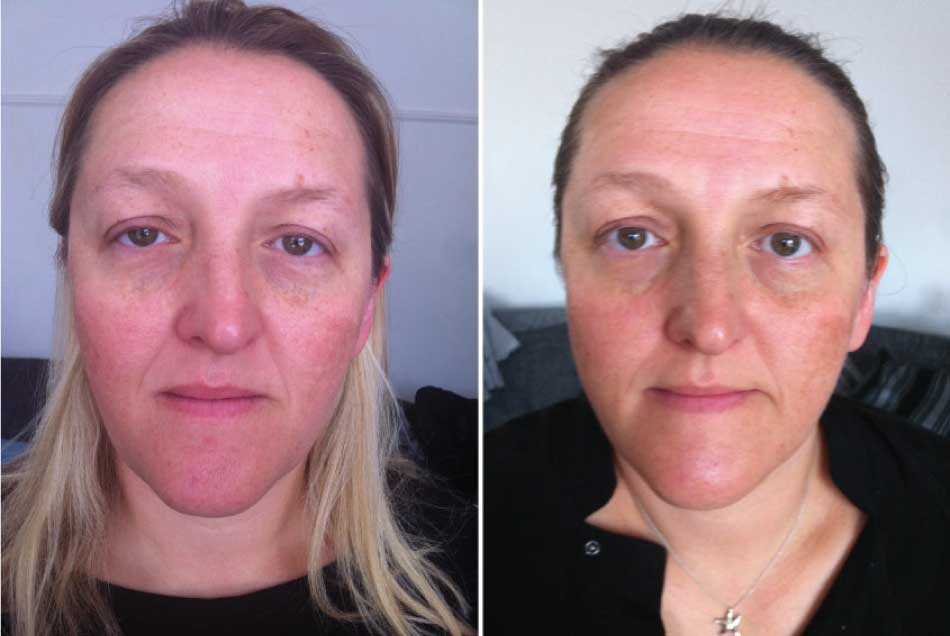 I will start with my client Mrs J.
Her skin goals: Smoother skin, less oil production and softer wrinkles. On the first treatment, I work on the right-hand side of the face first before starting the left-hand side
On her first treatment, after working on the right side of her face, I paused to show Mrs J the difference. She could see that her eyebrow had lifted and her eye was wider compared to her left side. I also noticed how relaxed Mr J was throughout the whole massage, she did fall asleep and over the six weeks; she looked less tired, the darkness under her eyes lifted, her skin became soft and smooth. She looked brighter, fresh and lifted all round. She also told me that she had been sleeping more soundly.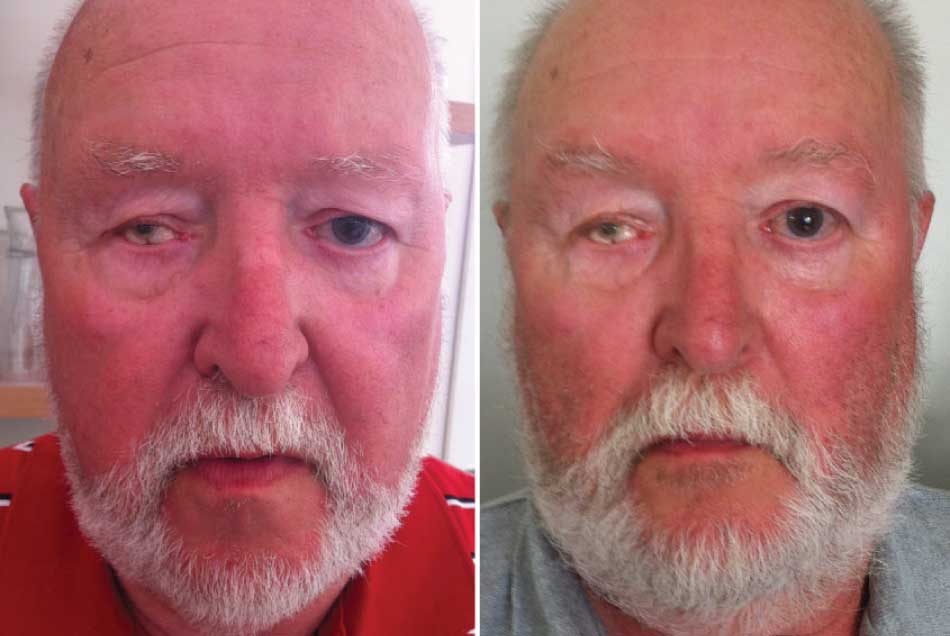 Mr H had some issues with psoriasis on his chin; Mr H had concerns with his right eye shrinking after losing his sight.  He wanted to see if the treatment would widen his eye. Mr H was a bit apprehensive at the first treatment but relaxed into the second treatment and fell asleep. He felt less tension around his forehead and eye area after each session.  Even after our first meeting, there was a slight lift in both eye areas. He was eager to make another appointment. Throughout the sessions, my client felt very relaxed and calm he could feel his facial muscles relaxing and toning at the same time. After the sixth treatment, there was a remarkable difference in both eye areas.  His eyebrows were lifted, with less tension. Also, the lines around his mouth (Nasolabial Folds)  are less noticeable, and his psoriasis looked less active.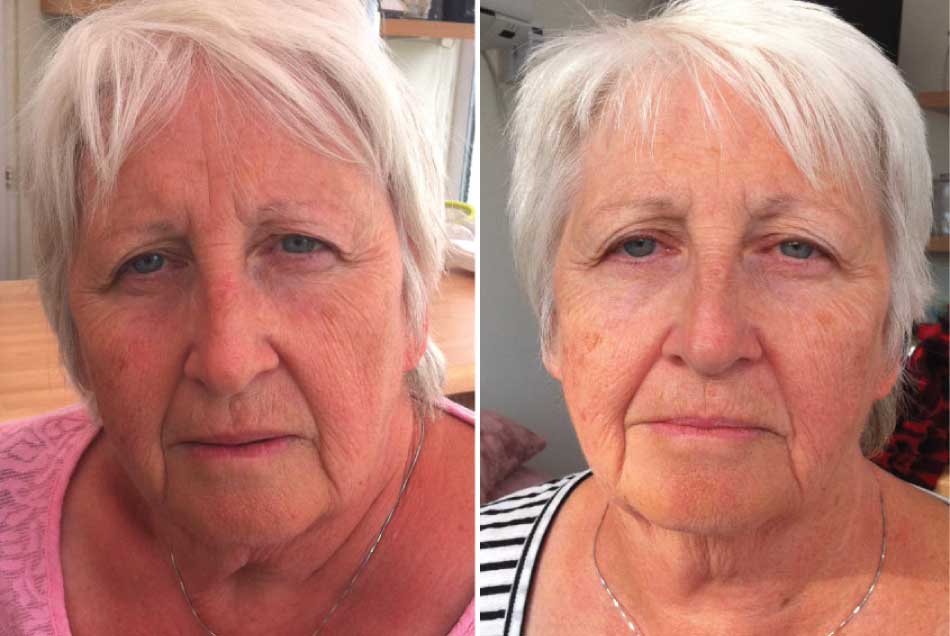 My client Mrs P wanted to work on her eyes mouth and neck.  She wanted to look refreshed and feel relaxed. Halfway through the first treatment, she noticed her right-hand side felt relaxed and toned with less tension.  She also fell asleep half way through. After her third session, I noted that Mrs P's neck and jaw line looked more defined.  She felt like her muscles were toned, her scalp felt looser and lighter. Throughout the six treatments, Mrs P face felt softer, her expression lines on her forehead softened and her eyes brows looked lifted. Her eyes looked refreshed, her jaw line and overall face shape look slimmer at the end of the six weeks.  She experienced a tight lifting feeling and a reduction in facial tension. She felt better in herself as she felt totally relaxed and refreshed.
From the feedback and visual results, I could not have been happier.  I found that the treatment does live up to its name in different ways.  The results varied for each client; it is hard to tell beforehand what improvements my clients might achieve, but all my patient's felt totally relaxed during and after the facelift massage treatment. I also noticed how relaxed I was after practising the rhythmic movements. I feel so blessed to be able to share this fantastic therapy and also reap the rewards of working in such a nurturing environment.
Have you tried this amazing treatment?  Would love to know what you think.