MASSAGE YOURSELF TO RELIEVE STRESS
Are you looking for a home self care ritual that you truly look forwards to? That makes you feel grounded rather than overwhelmed? Relaxed rather than stressed? And rejuvenated rather than exhausted? You have the power to choose how you want to feel, embrace your inner healer, create a space for yourself, slow down, sit, take a couple of deep breaths, let your body and mind unwind rest and replenish. Face massage yourself to relieve stress
FEEL CENTRED AND CALM
ALLOW YOURSELF TO RELAX
FEEL FACIAL EXPRESSIONS SOFTEN
WATCH SKIN BRIGHTEN AND PUFFINESS DISAPPEAR


RELIEVE STRESS | MASSAGE YOURSELF
Science has shown stress to hinder our immune system, which can undermine the well being that we most desire in this fast paced world, by manifesting as premature ageing, poor wound healing, dermatitis acne or digestive issues to name a few. Self facial massage is very relaxing and fantastic at relieving stress. Face massage can be done in the sanctuary of your own home. Massage helps calm the nervous system, relieving stress while supporting the immune system.
Unleash your power, your own inner healer with meditative massage strokes, over your face and neck, to soothe your nerves by bringing your body in to rest and repair mode that:
Increases movement of the lymphatic and circulation systems
Prevents fluid build-up that causes puffiness in the tissues
Speeds up blood flow & moves away toxins and cellular waste
Helps skin cell repair and growth by bringing oxygen and nutrients to the skin
Relaxes muscles helping the flow of blood and lymph
Skin becomes naturally hydrated, toned, and fine lines are smoothed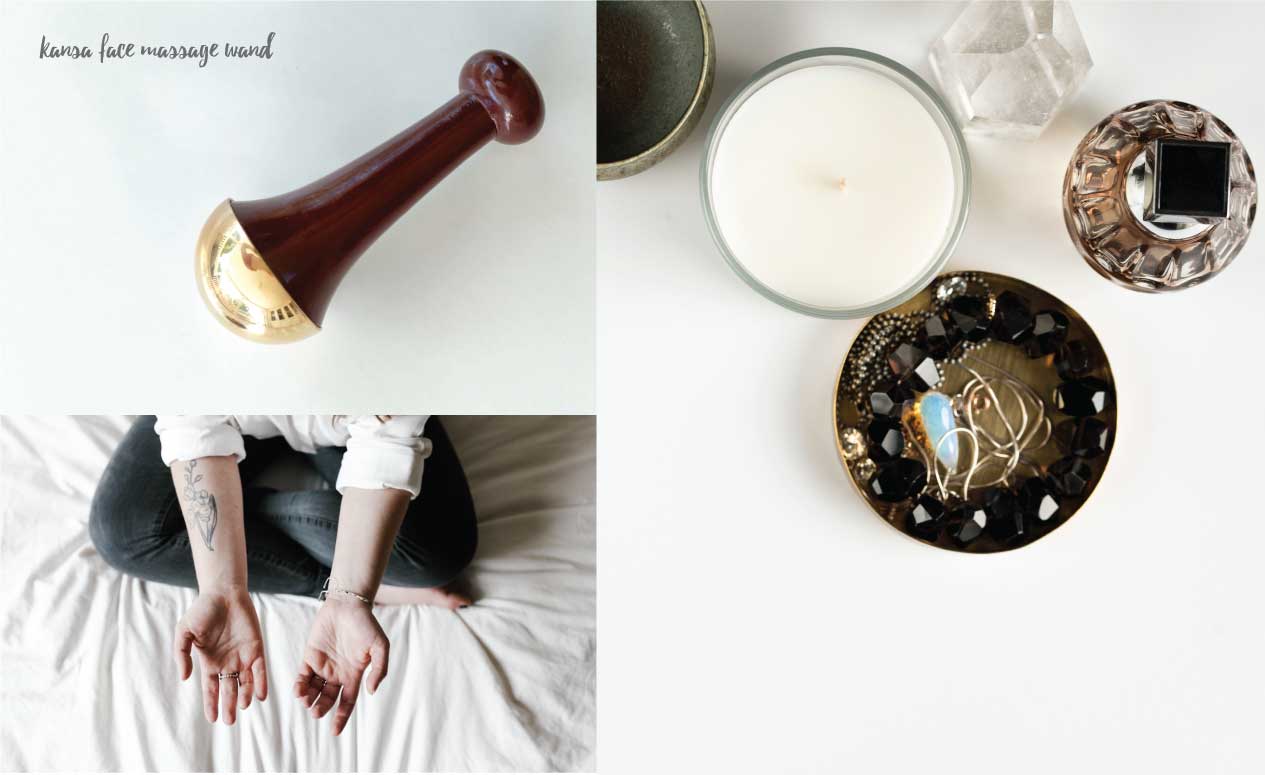 Creating your personal face massage ritual
I love the rhythm and flow of the light weight Kansa face wand used in Ayurveda massage, composed of a rosewood handle with rounded head and ancient bronze top (mixture of copper and tin) known as a healing metal, that cools and draws away heat and inflammation from tissues. (see video above)
You can also use your fingers or flat smooth crystals that work with the contour of your face, use what resonates with you and your skin.
Let's set the scene, you have just had a shower, you face is clean, there are no distractions. Find a comfortable quiet place to sit or lie down, you can diffuse some essential oils and dim the lighting, turn on some meditative music.
Set an intention
Set an intention of how you would like to feel, maybe you want to feel light, relaxed, energised, how do you want to feel in the moment? How do you want to feel for the rest of today? Set an intention to massage yourself to relieve stress.
Apply 2-3 pumps of face oil to your hands warm between palms, take a few deep breaths, and gently press the oil onto your face and neck. If you have dry skin try using some olive oil or for all skin types you can try Miskin ritual face oil blend with Jojoba oil and lavender essential oil.
Tips before you start:
Use enough Face massage oil for the wand, your fingers, or chosen crystals to glide smoothly and effortlessly.
We will start the sequence by relaxing strokes along the forehead
Then concentrate on the right side of your face first
Try each move 5-9 times
Use slightly firmer strokes when moving in an upward , outward direction which increases tone and elasticity
Once you learn the moves find your own rhythm close your eyes and relax
If you wish, work longer in areas of tension
10 mins is plenty of time, you can massage for longer if you wish
Hydrate yourself with a big glass of water after your massage
If you are feeling unwell have a cold or virus wait until you are well before you start your massage
Breakdown of each facial massage step for Rejuvenation 
Below is a description of each massage step and how these steps can rejuvenate your face, you may want to work on 2-3 mins each day, while doing a 10 min massage weekly, find you own rhythm experiment to see what works for you, this isn't another task for your to do list, this is for you.
Massage steps 1 to 3 help to relax forehead muscles while stimulating cellular rejuvenation, helping to soften and prevent premature wrinkling.
Massage steps 4 clearing lymph away from the eye area helps to reduce puffiness
Massage step 5-6 draining lymph build up muscle and tissues helps lift and tone cheeks  Massage step 7-9 releases jaw muscle tension helping with TMJ, relaxes over all tension in face
Massage steps 10-12 helps to remove build up of lymph at the jaw line and under the chin and neck
The video above shows the self facial massage instructions with the Ayurveda Kansa Face wand.  You can also use your fingers or any smooth flat crystals. Use what feels best for you.
Ayurveda Marma points. The body's hidden healing system
Ayurveda literally means "science of life" , its known to have existed 5000 years ago originating in India, known as the oldest living system of medicine and preventative health care, a union of holistic medicine, this wisdom of healing offers comprehensive understanding of body mind and soul .
A Marma point is a vital energy point located on the surface of the body. Like modern quantum physics Ayuverda believes that a human being is not solid but an ever changing body of energy.  These Marma points are vital as they are infused with life force Prana / Qi, serving as a bridge between mind body and soul.  Serving as pathways to the body's inner pharmacy there are 117 major Marma located all over the body.
These energy points are used in similar way to acupressure points from Traditional Chinese Medicine.  They need only to be touched gently to open and function well. With any touch we are working on Marma points. We may pause and work on them directly like at the mid forehead and temple or glide over them but, whichever way they are being visited, touch is a vital tool to open Marma energy and relieve stress.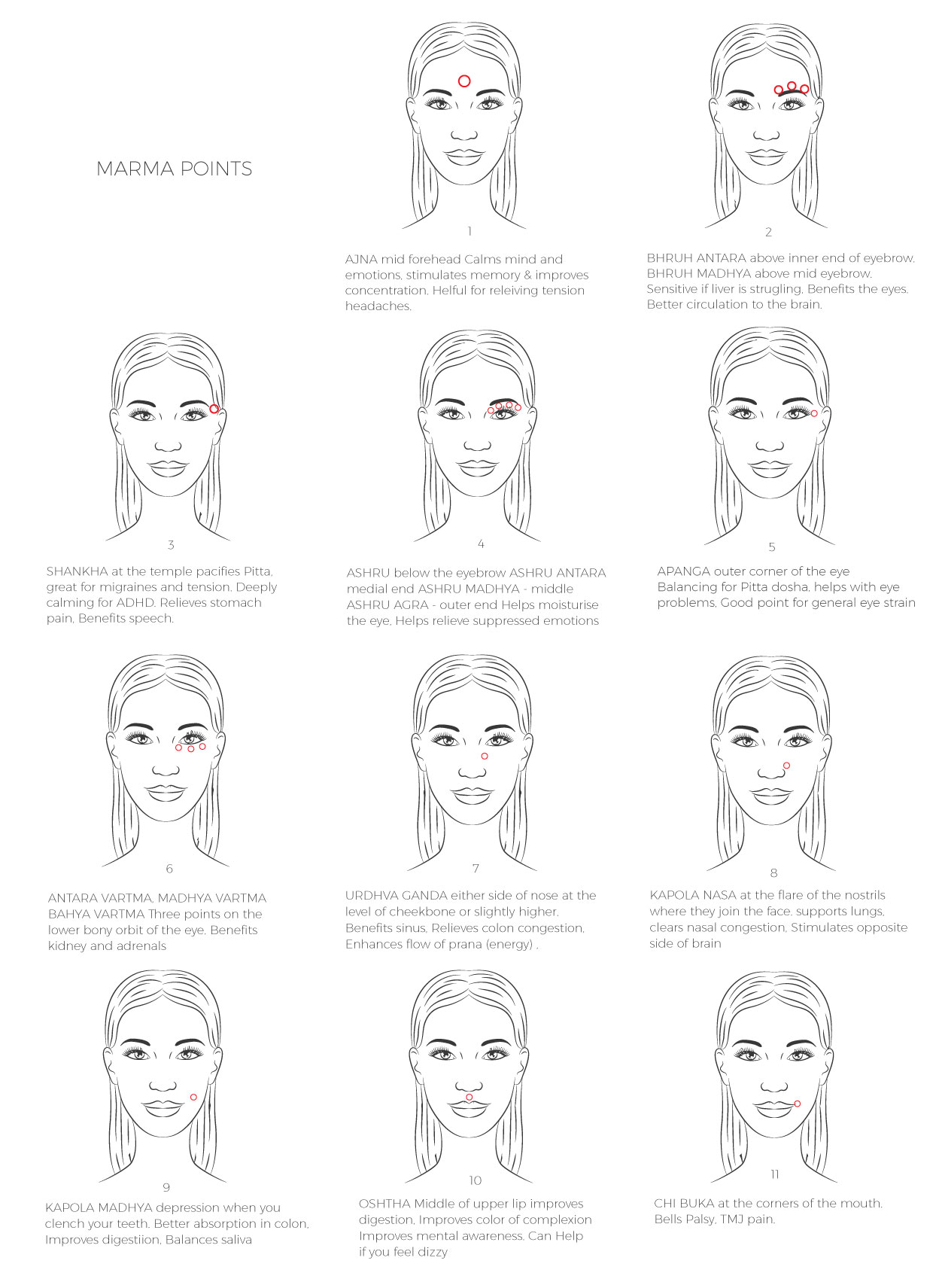 I am passionate to create positive change, inspiring a balance in mind body and soul with a focus on your skin and inner beauty. Choose what ever resonates with you, listen to your heart, body and follow your intuition.  Keep it simple, be mindful, slow down, enjoy laugh have fun be creative, love yourself for who you truly are.