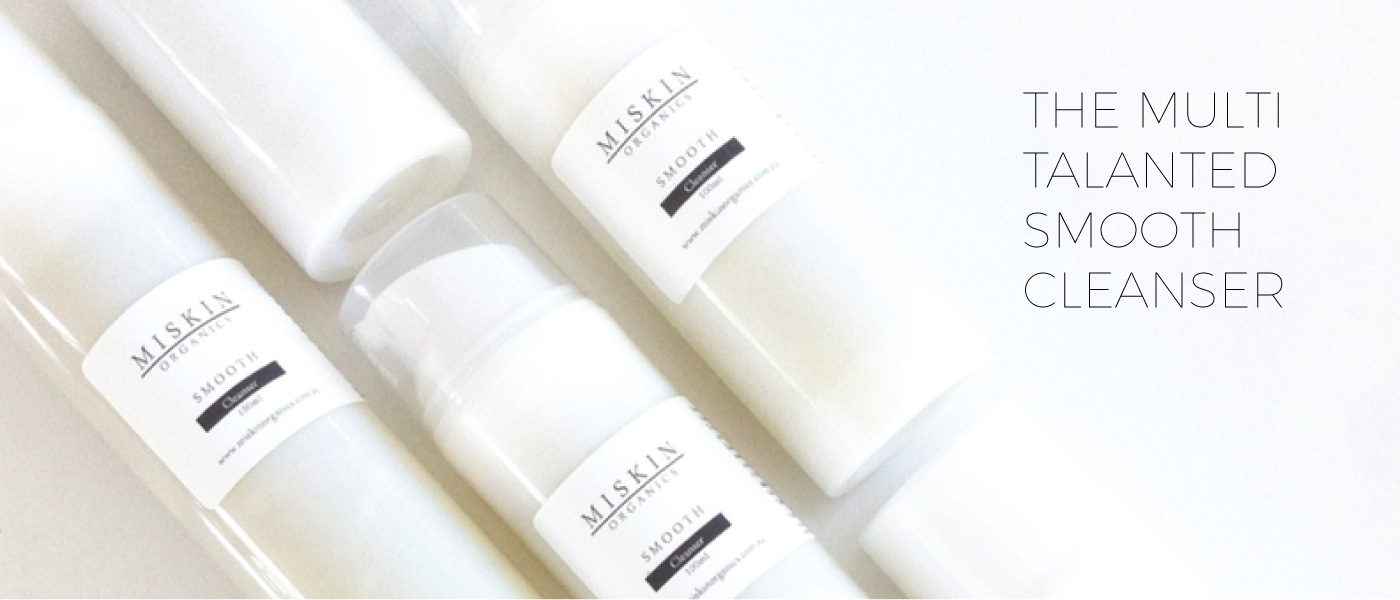 The Multi-talented Smooth Cleanser: Deep cleansing and hydrating:
Perfect for all skin types including sensitive skin
A clarifying cleanser that softens smooths and hydrates the skin.
The plant-based blend gently purifies by cleansing deep into the pores without stripping the skin's natural moisturising barrier.
The smooth cleanser is formulated with a magical organic emulsifier that turns milky in contact with water.  The Smooth cleanser is formulated using a cold process technique, so the cold pressed oils are not heated keeping the plant's healing properties intact.
Benefits:
• A gentle, mild cleanser that removes dirt & dead skin cells while maintaining the skin's ph in balance.
• Replenishes emollients to moisturise and protect skin without leaving it dry and taut.
• Tones.
• Smooths, nurtures and softens skin.
• Natural antimicrobials from plants…. To keep blemishes at bay
• Help reduce redness in irritated skins by restoring the skin's natural barrier
• Removes makeup with ease.
• Have multiple uses, when mixed with other products
Key Ingredients:
Castor oil Oil is drawing, cleansing, and purging for your pores. It offers potent anti-inflammatory properties to calm and soothe, The triglycerides found in castor contain antibacterial properties.. retarding the growth of harmful microbes. Castor oil is hydrating, it's a natural humectant which draws and traps water from the air against the skin.
Macadamia nut oil has a high content of oleic acid which is fantastic at softening and moisturising the skin. Linoleic acid helps restore skin's barrier function and reduces Transepidermal water loss (TEWL) and phytosterols reduce redness and itching. Palmitoleic acid is a building block in our skin to prevent burns, wounds, and skin scratches and is an active anti-microbial.
Virgin Coconut oil is very good at hydrating skin. It sinks in deep, conditions, moisturises, and softens skin. VCO Contains an antioxidant P-coumaric acid which is a good anti-oxidant and anti-inflammatory polyphenol.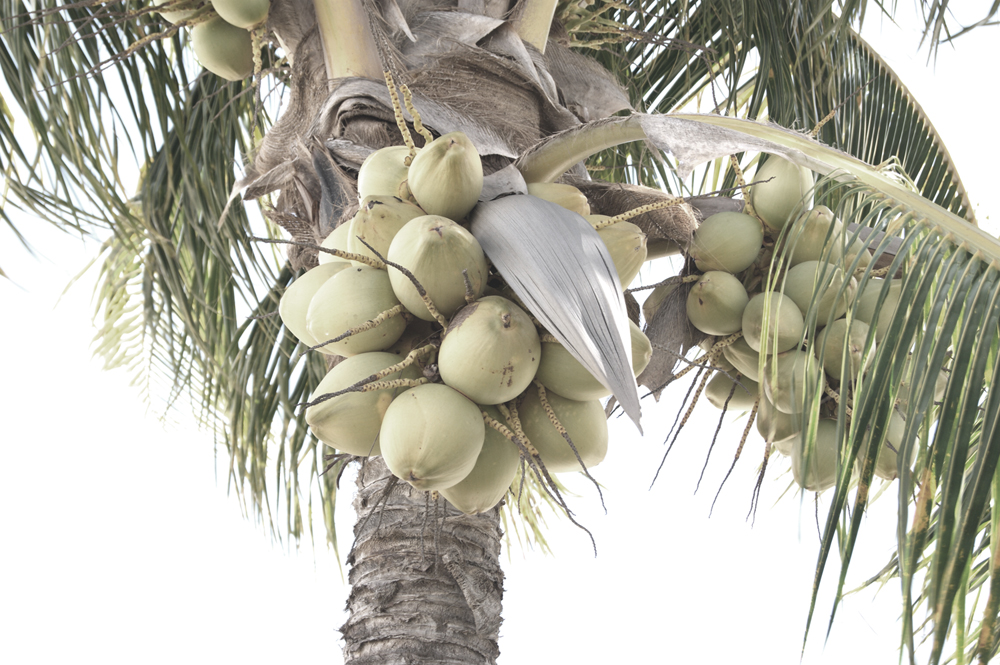 INGREDIENTS
Extra Virgin Olive (Olea Europea) Seed Oil*,(Glycerine*, Almond Oil (Prunus amygdalus Dulcis)*, Citrus (Aurantium Dulcis) fruit water*, Sucrose Laurate.) , Coconut (Cocos Nucifera) Oil *, Macadamia (Macadamia Ternifolia) nut oil,*Castor (Ricinus communis) Oil*.
*Certified Organic Ingredients 98%
.
The Smooth Cleanser is our mixable multi-purpose star in our range, it can be used in many ways to suit your daily skins needs. Let's start with cleansing:
.
CLEANSING.  Fantastic for all skin types.
• Apply 1 -2 pumps to the palm of a DRY hand and use fingertips to massage gently into DRY skin in an upward sweeping motion for at least 1 minute over face and neck. Wet fingers and massage again as the cleanser changes consistency into a milky lotion & rinse with warm. If wearing makeup or sunscreen rinse with a soft, damp, warm cotton flannel or muslin cloth. Double cleanse in the evening (repeat above) massage a little longer for that mindful ritual.
EXFOLIATION FOR ALL SKIN TYPES
( avoid manual exfoliation with inflamed acne and sensitive skin )
• As an exfoliator, after cleansing, use a couple of pumps in a small bowl use a pinch of The detox face mask or almond meal add a splash of water or hydrosol, for an extra moisturising boost add a couple of drops of a Miskin Face Oil Elixir use light fingertip motions over face and neck, rinse well.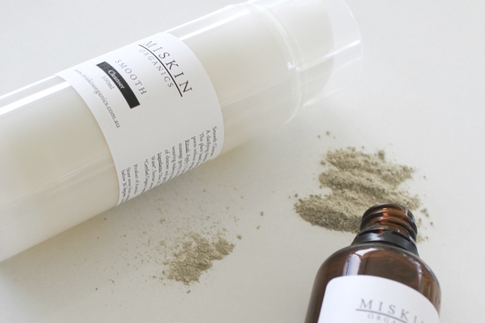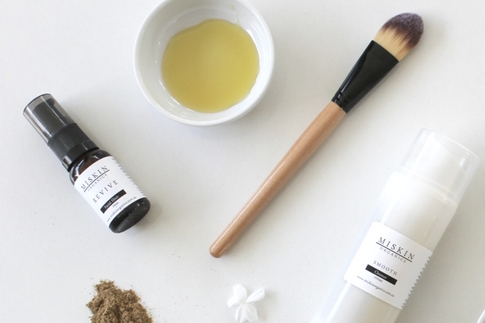 MOISTURISING LOTION
Dry, Oily, Combination, Sensitive, dehydrated skin.  Mix to suit your skin type and concerns
Use a Pump of one of the Miskin Face oil elixirs into the palm of your hand or use a small bowl. Next a really small pump ( half pea size) of the Smooth cleanser and a couple of drops of water or hydrosol, using the liquid between your palms press gently against your face and neck. Then use a pump of the Miskin Face oil elixir, press onto skin lightly with your fingertips to seal in the moisture.  Use more elixir for dry skin and more water for oily, dehydrated skin.
HYDRATING MASK: 
For dry /dehydrated, oily /dehydrated and mature skin 
Use a couple of pumps of the Smooth Cleanser, layer over damp face and neck, use a damp sheet mask, or layer damp cotton wool over your face.  Leave on for 20 minutes ( for extra moisture and an antioxidant skin boost add a few drops of a Miskin Face Oil Elixir to the mask and mix well before applying)
Add a 1 tsp of Smooth Cleanser and 1 tsp of The Miskin Honey Apple Face mask or honey in a bowl mix well. Apply a layer over damp face and neck, (make sure face is quite damp so it is easier to spread) use a damp sheet mask, or layer damp cotton wool over your face. Leave on for 20 minutes (For an extra antioxidant skin boost add a couple of drops of a Miskin Face Oil Elixir to the mask and mix well before applying)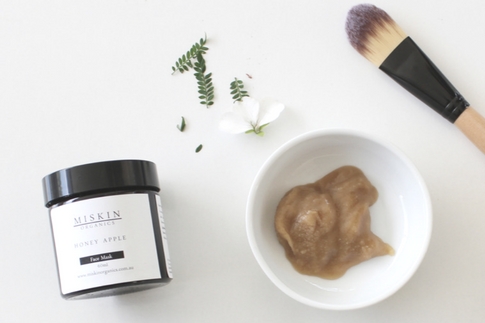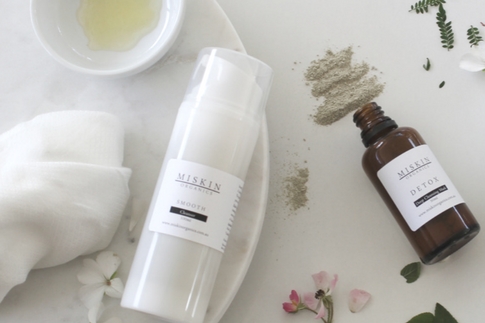 DEEP CLEANSING MASK 
For Oily, combination, dehydrated, congested skins
Mix a tsp of the Detox face mask with a little water to make a runny paste, add a pump of the smooth cleanser, mix well. Apply a layer over damp face and neck, use a damp sheet mask, or layer face cloth over your face, do not let dry. For s deeper cleanse use a bowl of hot water, apply the detox mask and sheet mask hold face over bowl hang a towel over your head for 5 mins, leave on for 10- 20 minutes. IMPORTANT do not let the mask dry ( do not steam if you have broken capillaries)