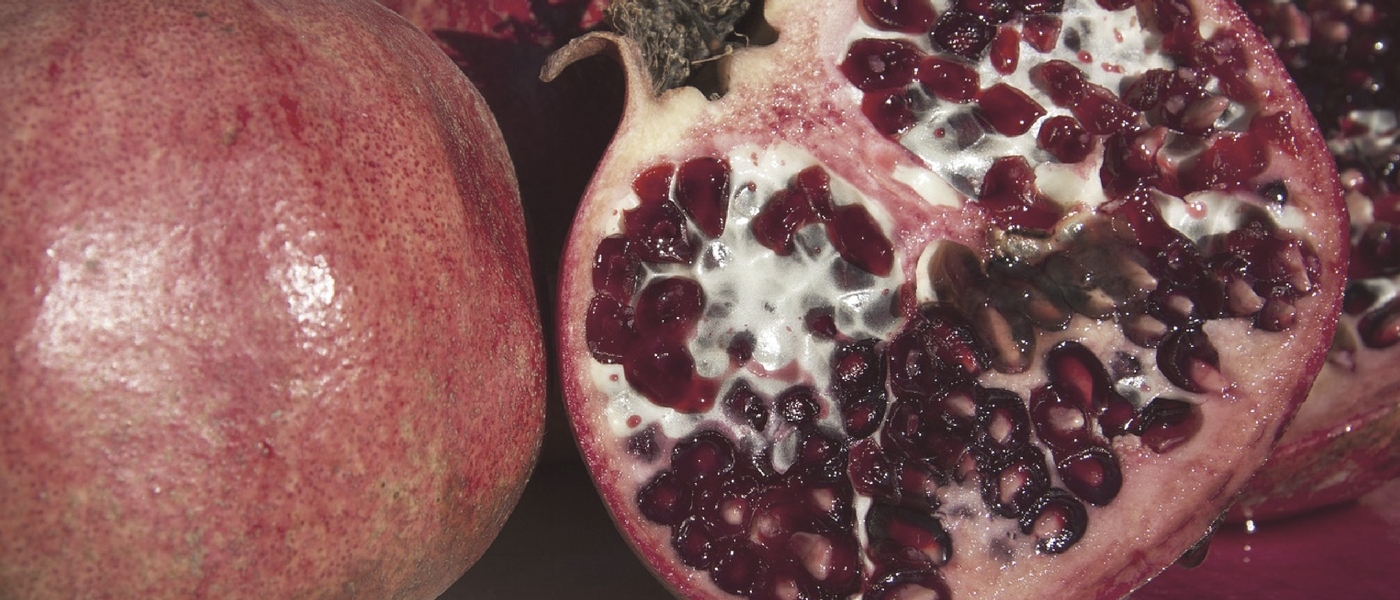 Dating back to Biblical times, the Pomegranate fruit from the tree Punica Granatum is attributed to possess extraordinary medicinal properties. The oil is cold pressed or co2 extracted from the pomegranate kernel.
The amazing benefits of Pomegranate Oil
The pomegranate tree is native to the Middle East and some Asian countries. It is a symbol of prosperity and abundance in many cultures also well known for its medicinal and beauty benefits and much more in ancient times.
The unique biochemical composition of the pomegranate fruit being rich in antioxidant tannins and flavonoids has had recent attention from western scientists who have been drawn to its medicinal properties. Pomegranates are another of nature's super fruits.
With its incredible antioxidant, Phytosterols, Punic Acid, Ellagic Acid, anti-microbial, anti-inflammatory and the ability to encourage radiant skin, the pomegranate has been incorporated into skin care; especially anti-aging and sun care products. It can help with sunburned or chapped skin and it can improve the skin's elasticity, and stimulate regeneration in skin cells.
Skin benefits of Pomegranate Oil
1. Cell Regeneration: Pomegranate seed oil stimulates "keratinocytes", major cells found in the outer layer of the skin. This helps to reverse skin damage, revive skin and reveal a more youthful appearance. Increasing circulation and healing the skin, aiding in tissue repair and wound healing helping to thicken skin promoting regeneration of the epidermis.(1)
2. UV Protection/ protects from photo aging: Ellagic acid has shown to prevent collagen destruction and inflammatory responses caused by UV exposure both of which are partially responsible for aging skin. Pomegranates also help prevent the appearance of hyper- pigmentation and age spots.
3. Soothes inflammation: Pomegranate oil contains a lot of phytosterols, that reduce redness inflammation and helps soothe itchy skin.
4. High in antioxidants: Pomegranate oil showed strong antioxidant activity close to that of green tea and significantly greater than red wine (2)
Pomegranate oil is a great addition to your skin care ritual to protect and regenerate your skin, helping improve the appearance of fine lines by reducing inflammation and forestalling further damage.
Pomegranate seed oil can be found in the Revive and Balance Facial Elixirs.
1. J Ethnopharmacol. 2006 Feb 20;103(3):311-8. Epub 2005 Oct 10.
Pomegranate as a cosmeceutical source: pomegranate fractions promote proliferation and procollagen synthesis and inhibit matrix metalloproteinase-1 production in human skin cells.
Aslam MN1, Lansky EP, Varani J.
2. J Ethnopharmacol. 1999 Jul;66(1):11-7.
Antioxidant and eicosanoid enzyme inhibition properties of pomegranate seed oil and fermented juice flavonoids.
Schubert SY1, Lansky EP, Neeman I.